Designing Learning Spaces
Learning Spaces Key Elements:
Learning spaces must be effectively designed to facilitate learning.
Listening to the users is a critical factor in planning learning spaces.
Planning ahead keeps costs down and enables effective use of technology.
Technologies students use today include mobile devices and wireless access to the Internet, affecting where, when, and how they learn.
Environments should be flexible, enable collaboration, creation and sharing
Detailed Attributes of Learning Spaces
"Any new learning space should be built with the assumption that it will last 30 times longer than any technology that would sit inside it" William Gibson
When designing a learning space, little things like the position of controls, location of aisles in a room, or the way the light reflects off a whiteboard or screen are very important. Picking the right furniture, choosing the right sound-dampening materials, or ensuring that there are enough electrical outlets can have a significant effect on the usefulness of a room. Most of these things are easy to get right in the design phase but hard or costly to fix later on. When it comes to designing effective learning spaces, the details matter.

The detailed attributes of learning spaces have been grouped into categories: space and building considerations, policy issues, audiovisual equipment, technologies such as PCs and monitors, software and its configurations (including use policies), and networks (including access and storage). Click on the terms within each category to call up additional information from Larry MacPhee's Learning Spaces: A Tutorial
Space and Building Considerations
Policy
Audiovisual
Technology
Software and Configuration
Network
(Taken from: EduCause © 2009 Larry MacPhee. The text of this article is licensed under the Creative Commons Attribution-NonCommercial-No Derivative Works 3.0 license.)
Learning Spaces for Multiple Uses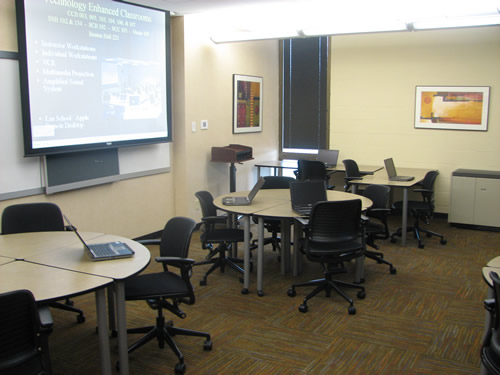 An Example of a Multi-purpose Learning Space
Learning spaces for multiple uses are spaces where a variety of learning can take place. They are places that provide space for a wide range of pedagogical practice learning styles. Additionally, they are spaces that can take a variety of forms depending on the school's social and cultural context, students' ages and abilities, educational philosophies, curriculum and pedagogies. Multi-Purpose learning spaces must be flexible. It should be able to serve a variety of learning communities within the school and the community surrounding the school.


Basic Steps to Ensure the Effectiveness of a Multiple Use Space:
Understanding the curriculum context including 'teaching & learning principles', 'learning strands & domains' & 'key pedagogical approaches'
Determining the functions a space, the specialist facilities, equipments and services required
Designing learning setting with certain spatial qualities, furniture, technologies, equipments and relationships to other spaces
Principles of Contemporary Learning Space
Flexible
Connected
Collaborative
Multi-sensory
Graphic
A blend of physical and virtual environments
Flexible Learning Spaces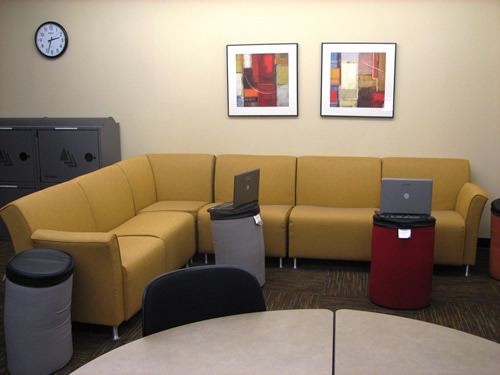 The same room - Look how the space can serve many purposes!
New and refurbished learning spaces are no longer classrooms to hold 30 students and 1 teacher in fixed box style, single purpose rooms. Contemporary learning requires larger spaces and enables the combining of student groups with more than one teacher. Learning spaces that can be divided into smaller, more intimate sizes using shelving, lounges, furniture, screens etc. are what is desired. They need to be spaces for large group meetings, spaces for multiple uses, including creative, verbal, experimental and collaborative activities.

Collaborative learning spaces
For a learning space to be collaborative it need to have areas for small group work, connections to outdoor spaces with line of sight for teacher supervision, circular desks or flexible furniture and Interactive equipment such as white boards placed at student height.

Connected learning spaces
These types of learning spaces provide both indoor and outdoor connections. They can include glass walls or large windows to connect students to the outside world and a connection to the school network and Internet through a wireless network.

Creative learning spaces engage multi-sensory and graphic contemporary learners through:
The use of stimulating colour schemes in paint and fixtures is essential to entice student engagement. The provision of large areas for work displays and changing visual stimulus as well as providing access to graphic and multi-sensory resources on CD, DVD, or through connection to the library catalogue are all key components in contemporary and multi-purpose learning spaces. Finally, allowing creation and playback of student created sound files including podcasts and providing space for kinesthetic activities are all different ways that a learning space can serve many purposes.



Next up, see Blended Learning